04/12 2014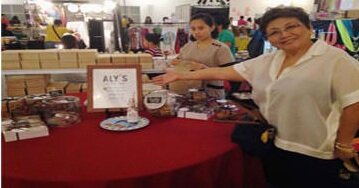 JUST recently, I was elated to find out that my dear friend Bernadette Estrella-Arellano (she's the daughter of my father's friend Conrado Estrella of Pangasinan) is the spirit behind the Moringaling Philippines Foundation, Inc. (MPFI) which she founded in November of 2009.
 
Over breakfast in my San Juan apartment, Bernie Estrella-Arellano explained why morinaga has to take center stage in everyone's meal, I was once again reminded that God is indeed very kind.

 
According to Bernie, "Moringa (commonly known as Malunggay) contains the highest nutrients and minerals as compared to other local vegetables, and is at par with the expensive broccoli. Moringa is easily grown everywhere and is wonderful for malnourished children and helps lactating mothers produce more milk. Now, even the cows and goats are fed morinaga leaves in order to produce more milk". Ummmm.
 
"MPFI is the umbrella organization of moringa / malunggay producers in the Philippines. MPFI is working its way to make the lowly moringa/malunggay become the National Vegetable of the Philippines. In fact, Congress just recently approved the Moringa Bill.
 
"Authored by Cong. Gina De Venecia, the Bill includes the provision making November the "Moringa Month". Sen. Cynthia Villar, chairman of the senate's Agricultural Committee, is also pushing the same bill for approved in the Upper House.
 
"The human body needs at least three cups full of moringa leaves a day to build resistance from common illness. Moringa's high Vitamins A and C content is the cheapest complete super-food in the market and may also be found in the backyard of homes especially in the countryside.
 
 "Moringa easily grows anywhere and its leaves can be gathered periodically without need of replanting the tree. Every part of the Moringa tree can be used as food, filter, lubricant, and color dye. When the dried Moringa seeds are compressed, oil is produced and aside from taking it into our bodies, it can also be used as a basic ingredient (known worldwide as Ben Oil) in cosmetics.
 
"The material left after compressing the seeds of this super plant also can be utilized as filter for air and water and its natural green color is used to dye clothing materials. Moringa tea bags, capsules, and furikake - containing dried flaked fish and sesame seeds are being exported to Japan and to the United States.
 
"MPFI's advocacy is to promote the propagation of Moringa trees so that food supplements may be produced in powder or capsule forms. At home, Monringa's dried leaves may also be converted into tea but one must remember that sanitation should be given first priority and keeping moisture down for longer shelf life is a must".
 
MPFI's office is found in the PITAHC building inside the East Avenue Medical Center compound in Quezon City. There, MPFI readily and freely shares information on the latest technology and markets for Moringa. Its website Moringaling.Net and the public may get information about MPFI's numerous activities and its annual Moringa Congress. Invitation to such events is open to all moringa enthusiasts (scientists, professors, students, farmers, manufacturers).
 
From November 19 to November 21, the first "World Moringa Symposium" will held at the Crowne Plaza Hotel in Pasig City. Make sure you mark these dates on your calendars…That's not very long a time from today!
 
Until then, make Malunggay or Moringa a part of your daily diet. You'll keep yourself healthy and strong for the rest of your lives……. and that would make everyone who cares for your extremely happy!!!
 
Amen.


SOURCE: http://www.malaya.com.ph/business-news/living/malunggay-comes-its-own